In 2010, late Ghana Nand Madhwal took a transfer from Roorkee to Nainital as he was afraid that "cricket keeda" would ruin his younger son Akash's Class Xth board results. Thirteen years down the line, life has come full circle for the Madhwals. The cricket bug has finally paid the dividends. The 29-year-old bowled the best spell in the IPL playoffs history as his 5 for 5 in 3.3 overs helped Mumbai Indians thrash Lucknow Super Giants by 81 runs in the Eliminator.
"We both used to love cricket, but Akash was more into it. I used to play for fun, but his intensity was always different from ours. Our father got so annoyed with cricket that he took a transfer from Roorkee to Nainital so that we could focus more on our studies. I was in Class XI, and he was in Xth," Ashish Madhwal, elder brother of Akash, told The Indian Express from Dhandera, Roorkee.
Akash has defied the sporting adage "catch them young". When he lost his father, who was an officer in Military Engineer Services (MES), in 2012, Akash shifted his focus to studies. He even did a job as a Site Engineer in Roorkee. In 2019, when Uttarakhand finally secured the BCCI affiliation, he showed up for a trial in Dehradun and impressed the then-coach Wasim Jaffer. He was immediately fast-tracked into the senior team. A year later, he was picked as RCB net bowler. In 2022, he was with Mumbai Indians as a support bowler, replacing Suryakumar Yadav in the last two games.
At the Mumbai Indian camp, Akash found an elder brother in Rohit Sharma whose only advice to him has been "tu bindaas daal." (Bowl carefree). Rohit's knack with the youngsters, helping them to stay chilled and express themselves, has left an indelible impression on Akash.
"When I spoke to him after the SRH match. He was only talking about Rohit Sharma and how he has helped in the past two months," says Manish Jha, coach of the Uttarakhand Ranji Trophy team.
"Rohit Sharma has made me so comfortable that it never feels like I am playing in the IPL, I feel like I am playing for Uttarakhand," Jha shares Akash's rave. Akash also told Jha that, "fifty per cent of my performance in this year is due to Rohit bhaiya. In the first match, he just told me that I must not think about anything else and should treat it as another domestic game".
In the post-match presentation Rohit Sharma has lauded Akash's skills and character and said: "Akash was part of the team last year as a support bowler, and once Jofra was gone I knew he had skills and the character to do the job for us. It is important to make youngsters feel special and make them feel part of the team, my job is to just make them comfortable in the middle."
In the history of IPL, Akash's performance is right up to the top when it comes to the uncapped Indian players. The last time someone set the IPL on fire was Paul Valthaty, when he was the breakout star of IPL 2011, hitting an unbeaten 120 for Kings XI Punjab against Chennai Super Kings in a 463-run season.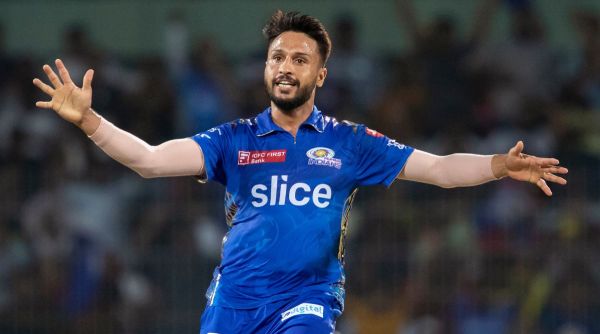 Mumbai Indians' Akash Madhwal celebrates a Lucknow Super Giants wicket Krishnappa Gowtham during the Indian Premier League Eliminator on Wednesday. (AP Photo)
Will Madhwal be another flash in the pan? His coaches don't think so.
Avtar Singh, under whose guidance Madhwal had started bowling with leather ball, calls him "lambi race ka ghoda", in for the long haul. "My coaching is pretty simple 'You always try to improve every game.' This is what I told Akash when he bagged his first IPL wicket. He took one wicket. I said your next aim should be to take three. He took three against the Titans, I told him to take four now. He bagged four against Sunrisers.
"I gave him another target' ab panja khol' (now take fifer). From the team bus, when he called me and said "sir aur koi hukum (any more instructions). We kept on laughing for the next few minutes!", Singh says. "Spark was always there when I saw him bowling from the tennis ball. Now there is a fire and hunger in him and he has got a great mentor in Rohit Sharma as well. You mark my words; this is just the beginning."
"He bowls long spells in the Ranji Trophy. Never misses his pace. He doesn't get tired. His fitness is very good. In the last three years, he has not missed a single session or match because of fitness. He missed one Ranji Trophy match because he was hit on the wrist while batting," says Jha.
****
Like any corporate employee, Madhwal also has an account on LinkedIn. Although he has not been active since he left his job as site engineer, in the 'about' section, he has written about his ability to work in complex environments, to handle a variety of tasks, solve problems, work hard, and have a positive attitude.
All of those skills were on display on Wednesday night at Chepauk.
"Rohit bhaiya knows my strength. As a captain, he used me exactly where the team needed me. Later on, I bowled at the nets with the new ball too. So he then thought I can bowl with the new ball too. In the practice matches, I did well to take wickets with the new ball. In the places where he felt confidence in me, he gave me the ball and I did my job," Madhwal said after the match.
Madhwal, who is in some way filling the big boots of Jasprit Bumrah at Mumbai Indians, also got the praise from the pacer. Bumrah tweeted: "What a spell from Akash Madhwal (with three fire emojis). However, Madhwal wants to create his own identity. He said: "I am trying my best to fulfil the responsibilities given to me by the team. I am not Bumrah's replacement, but I'm trying my best to do what I can."
Back in Dhandera, Akash's family is delirious. His mother is in tears. His elder brother Ashish is swamped with calls from the media and well-wishers.
"When he quit the job, our mother was not happy. You know the middle-class mentality. I was running a garments shop, his income was important to us. But deep down, I always knew that he wanted to play cricket. The age gap between us is also just one year. When he left the job we were sitting on our terrace I told him, 'You just play, I will take care of everything. Your spikes, your diets, the cricketing gears, but promise me you will never give up on your dreams. He did exactly that," said Ashish.
It takes a village to raise a child they say; the same holds good for a player. The apprehension-tinged affection from parents, the love and encouragement from brother, the talent-honing from the coach Avtar Singh, the talent-spotting from Wasim Jaffer, the professional eye from Mumbai Indians's scouts, and finally the confidence-injecting bindaas serum from the captain Rohit Sharma, who let Akash Madhwal spread his wings.