Whenever heavy rain is accompanied by high-speed wind, Hakki Pikki run helter-skelter looking for a safer place. Most of them stay in plastic tents, which are blown away by strong wind.
In case of heavy rain and wind, they grab the most essential items from their tents, and run towards a safer place with their children.
Watch | Who are the Hakki Pikki tribes?
Something like this happened on May 23 to Hakki Pikki people living in tents on private land at Srirampura near Shivamogga. Of the 70 tents, more than 10 were blown away by the wind. Even as they were struggling to come to terms with the sudden blow, rain started.
Lalitha, 30, and her 60-year-old mother-in-law suffered injuries as the poles that carry the roof of their tent fell on them. The tent of Fakirappa, 65, and his family was up in the air. The family is now taking shelter in a neighbouring tent.
The tents that belonged to Shivappa-Kamakka, Rajeev-Lalitha, Shankaraddi and Mulali were damaged. They have begun repairing the tents with the help of their neighbours.
For the last 11 years, these families have stayed put on private land off National Highway 206. Men and women go out every day to earn their living. Some sell towels and mosquito bats at traffic joints while a few work in construction sites.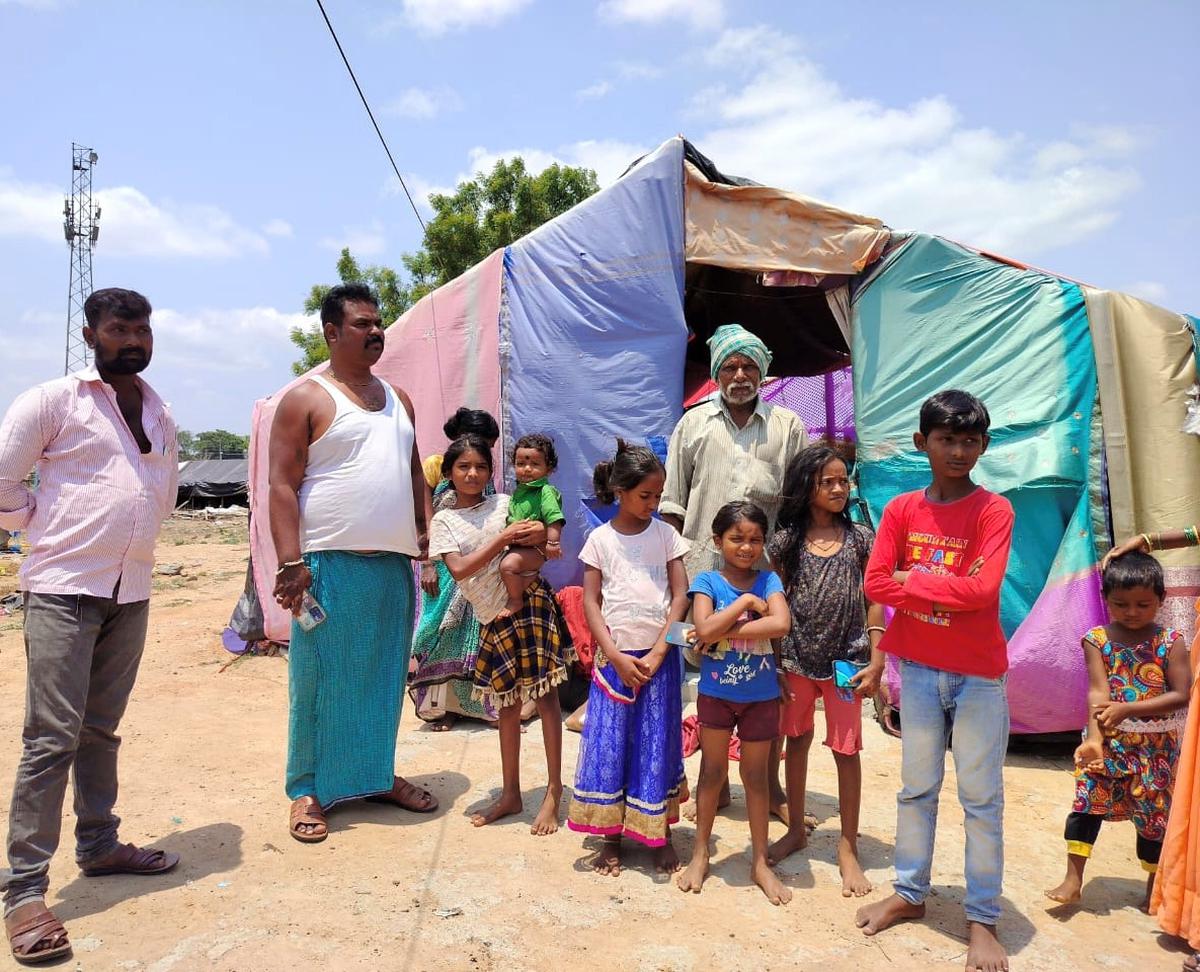 "Only if we toil during the day do we get food in the evening. We have no other source of income. None of us possesses any land or property," said C.M. Raju, a resident of the locality.
Earlier, they would move from one place to another. Several decades ago, they had put up their tents in the heart of Shivamogga, at the site where the bus stand is located now. But, they keep moving.
"We are nomads and have never settled down in one place for a long period of time. This is also private land. We have to move from this place as well," said Roopa.
They want the Karnataka Government to allot them suitable land so that they have a place to live.
The locality where they now live has no power supply. They fetch water from a tap near their camp. Often snakes visit their tents, and some of the boys have picked up skills to catch them.
One of the tents has been converted into an anganwadi centre. More than 50 children gather in the tent whenever the anganwadi worker comes there. A few children go to the government primary school nearby.
"We have appealed to the Shivamogga district administration to provide us with materials necessary to strengthen our tents," said Raju, who met the officails and submitted an appeal on May 24.
So far, no officer has visited the locality.